Proper Etiquette: Write Thank You Notes
It's not surprising that the proper etiquette for thank you notes has faded into a new world of impersonal technology — instant messaging and telephone texting are at our fingertips and as close as our I-Phones and computers.
But, new world or not, proper etiquette is the way to go if you want to be thought of as a classy person and one who cares. You'll never go wrong by knowing how to truly thank those who cared enough to send a gift, display thoughtful sentiments, perform a special deed and so much more.
A thank you note is a simple concept that doesn't take a lot of time, but can mean a great deal to the recipient. Many people shun the idea of using pen and paper because they think they're inept at writing and believe they don't know the perfect words to say. But, rather than striving for perfection, thank you notes make the best impression when they're simply heartfelt expressions of gratitude.
This guide will provide just the inspiration – and some real words – that you need to write thank you notes, whether they're for a gift, a special deed or anything else that requires sending personal expressions of thanks.
Samples of notes are included, but only to get you started. You can personalize them with your own sentiments and thoughts to make the note more meaningful to the recipient.
Personalizing a thank you note is imperative. It means that you thought enough of the gift to specifically acknowledge it and express thanks to the sender. You'll want to be specific in what the gift or deed meant to you.
There's nothing tackier than to "stamp" thank you notes with an impersonal message that's been pre-written and sent en masse. It's like getting junk mail – everyone on the mailing list is getting the same wording.
Don't even think about sending thank you notes of this type.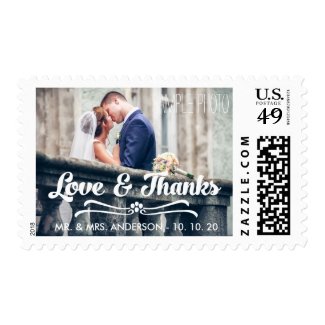 LOVE AND THANKS PHOTO THANK YOU POSTAGE STAMPS

After all, some thought was given in choosing the gift or performing the deed that probably brought a smile to your face, so at least mention the gift and what it meant to you to receive it. You don't have to fib in a thank you note and say you liked the gift, if you didn't. But, you can still say that you appreciate the thought that went into choosing it.
Thank you notes needn't cost a lot of money. Even "dollar stores" have boxes of note cards that you can personalize and use to express your thanks. Don't send a note written from a "sticky note" pad or a piece of paper torn from a notebook. Invest a few pennies in proper note cards or stationery.
Here are a few more "dos and don'ts" that you should remember are proper etiquette for sending thank you notes, including:
Always mention the exact gift. For example, if Grandma sent you pajamas, tell her how anxious you were to put them on and jump into bed.
Don't generalize. Mentioning gifts or deeds that others gave or did isn't proper etiquette.
Keep it simple. A thank you note should be just that. Don't take the opportunity to write down news or anything else. You can accomplish that in a letter or email.
Send thank you cards in a timely manner. The exception to this is a thank you card for a wedding gift. Couples have about three months after the gifts are received to send out thank you notes.
Handwrite each note. Use your best penmanship and a blue or black pen to write thank you notes.
Never send a group letter. Group letters are like group emails – nothing personal and sincere about the gift or deed that was given.
These are just general rules about thank you notes that should be followed if you care about the proper etiquette for thanking people in your life. Knowing these rules is as important as knowing proper manners when you dine with others. The impression you make will dictate the relationships you'll have throughout your life.
---
When Should You Send a Thank You Note?
Modern Faux Gold Foil Glamour Thank You Stamp
Thank you notes can and should be sent in response to all sorts of occasions and appreciated deeds. Among the times that you should definitely send a thank you note are:
Wedding and shower gifts (bridal or baby).

Gifts received for any occasion.

Job interview.

Flowers or gifts during an illness or hospital stay. Also, send a thank you note for a deed performed on your behalf, such as picking up mail or running an errand for you.

Expressions of sympathy such as Mass cards, gifts and flowers.

Congratulatory gifts or cards.

After being a guest at someone's house, attending a dinner party or other type of gathering.

After being entertained by a representative of a business you're involved with.

A health care provider who went above and beyond her job description.
Using common sense when it comes to sending a thank you note is the best way to ensure that you're saying and doing the right thing. After getting into the habit of sending expressions of gratitude, the task will become easier and more enjoyable as time goes on.
---
Giving You a Head Start on Writing Thank You Notes
Now that you know when you should write a thank you note, you'll want to know how to begin. This guide will provide all you need to know about the art of writing "thank you." You may want to print it out and keep it in close proximity of your note cards.
Keep in mind that the suggestions and templates for the thank you notes are just to get you started and to give you inspiration when you have "writers' block." The guide will provide specific samples of the most popular types of thank you notes, but the basic formula of personalizing any thank you note should be:
Greeting (Name of the person(s) you're writing to.)
Thank you (Immediately pen "thank you" and mention what you're thanking them for.)
Your feelings and/or thoughts about the gift or deed. (If the gift was money, be sure and tell them what you'll be spending it on.)
Another "thank you" to close.
Closing (Sincerely, Love or Regards is appropriate.)
Again, refer to the "dos and don'ts" rules when it comes to what to include in thank you notes – and also use common sense when deciding what is and what isn't appropriate to include.
If you're looking for specific information about certain types of thank you notes, read on.
---
Weddings – Thanks and More Thanks
For most newlyweds, sending out the mountain of thank you notes that are due soon after a wedding can be an overwhelming task. Think of it as setting up how people will view you as a couple during your marriage, having children, holidays and other milestones. If you properly remember the people who cared enough to shop for you and attend your wedding and reception – they won't forget you.
Chances are, you will have already purchased thank you notes in lieu of receiving gifts. They may be personalized with the name of the bride and groom and match your wedding colors and/or design.
If not, don't worry – there are so many elegant thank you notes available in stores or to be purchased online. There are even sites where you can choose the design you want and then print them out on stock cards that you can purchase at a stationery store, department store or online.
After you have the cards, it's time to sit down and write thank you messages. Hopefully, you or someone helping you with wedding gifts has written down a description of each gift that was sent and the name of the person(s) who sent it. Also, be sure you have the correct address for each person you'll be sending a note to.
old tree heart wedding thank you cards
Sweetest Love | Wedding Thank You Photo Card
Wedding Collage Thank You Postcard
Below is a sample template that you can use as a guide to write thank you notes for a wedding or shower gift:
Dear (Recipient),

Tom and I were so excited to receive your gift for our wedding. We'll be ready to entertain anyone with the beautiful crystal goblets – but, most of all, we hope you'll join us for an evening to celebrate our new life together. Your gift was both thoughtful and generous and every time we use them, we'll think of you.

We both look forward to seeing you very soon.

Sincerely,

(Your names)
For wedding gifts, you can wait a bit more time than for other occasions to mail thank you cards. But, do send them as soon as you possibly can. Aunt Sue and Uncle Ed may have spent a good deal of money on your gift – and they'll want to know you got it as soon as possible.
Many new brides think that writing thank you notes is strictly her job, but there's nothing that says the groom can't help. So, grab your guy, open the champagne that friend, Dave, gave you, find a comfortable place to write and settle down to get the job done.
Event or Dinner in Your Honor
If someone is nice enough to throw a party or host a dinner in your honor, you'll want to send a proper thank you note for all the time and effort that went into the planning and carrying out of the event. Before you sit down to write, think about everything that went into the occasion – putting together a list of people, deciding on place, food and drinks, shopping and cleaning.
Even if you've already personally thanked the person(s) involved in putting on the event, party or dinner, it's proper etiquette to write a formal thank you note.
A thank you note to someone who planned an event in your honor may look like this:
Dear (Recipient),

Once again, you've proven how thoughtful you are and how fortunate I am to have you as a friend. The dinner party you hosted for my retirement was so much fun and the food and drinks were superb. I know it took much time and effort to bake that beautiful cake and plan the celebration – I want you to know how very much I appreciate it.

Now that I'm retired, let's plan another get-together soon. Next time – my treat!

Again, much thanks!

(Your Name)
You don't have to write a thank you note for every dinner party you attend – especially if it's a casual neighborhood get-together or a usual Friday night dinner with your in-laws. But, if the dinner or party was special (or especially for you), be sure to send a hand-written thank you note over a casual email or phone call.
Business Thank You Notes
There are several scenarios that might happen in the business world to require that you send a thank you note. If you get an unexpected bonus or recognition for something you accomplished, it's a great time to let your boss or company know that you appreciate the honor.
Here's what a typical business thank you note might look like:
Dear (Boss or Company),

When I opened the envelope that held my paycheck yesterday, I was pleasantly surprised by the unexpected pay increase and the letter of appreciation that accompanied it. Thank you so much for the recognition for what I've done.

I enjoy working for ("you" or company name) and look forward to even more challenging projects in the future.

Many thanks,

(Your Name)
Your boss and/or company will appreciate that you took the time and made the effort to send an expression of gratitude. Also, always send a note of thanks after a job interview. In both cases, your thoughtfulness may set you apart from the rest of the employees or applicants and get you that much closer to a promotion, raise – or getting your dream job.
Funeral Expression of Gratitude
 Sympathy Memorial Thank You Note Card — Rose
The funeral thank you note is perhaps the most difficult to write. After the loss of a loved one, the last thing you want to do is sit down and relive the grieving moments of the funeral – and the attendees may be a blur in your mind.
Amazingly, people often feel better after writing thank you notes for flowers sent from friends, family or coworkers or for thanking people who were especially helpful during your time of grief – like cooking, cleaning, running errands — or just listening.
Writing funeral thank you notes may bring back painful memories, but it also reinforces the fact that you have others in your life that care about you and took the time to express condolences when you needed it most.
Here is a sample of a funeral thank you note that will let others know how much you appreciate their thoughtfulness.
Dear (Friend or Family),

Words can't express how we appreciated your attendance at Francine's memorial service – and the casserole was another (delicious) example of your thoughtfulness. Francine often spoke of how blessed she was to have your friendship.

Your presence and condolences during this time of sadness greatly brighten our days and we realize how fortunate Francine was to count you as a friend.

We so appreciate your kindness.

Sincerely,

(The Family of _____)
Thank you notes written after a funeral can be shorter or longer, depending on the closeness of the recipient to the deceased.
Thanks to a Special Teacher
Sometimes an extra-special teacher goes above and beyond what he/she is required to do – and that's when a thank you note becomes a gracious gesture of appreciation. You may have a child who was new in the school and the teacher went out of his way to welcome the child or kept in close contact with you about your child's grades or disposition.
When a teacher pays extra attention to your child and it makes a difference, by all means send a thank you note to express your gratitude. Here is a suggestion of how you might word the note:
Dear (Teacher's Name):
I knew this year wasn't going to be easy for (Child's Name). Fourth grade is difficult enough, but anticipating a new school and making new friends was particularly difficult for her. I don't know what might have happened if we hadn't been blessed with you as her teacher.

You exceeded all of our expectations of what we hoped for in a teacher for her first year at a new school. Rather than being depressed, she thrived under your tutelage, and we will always hold you in extremely high regard and appreciate your efforts on her behalf.

We truly appreciate your exceptional abilities and hard work.

Thank you,

(Your name – and spouse, if appropriate)
 The Best Science Teacher – Thank you Greeting Card
 Thank You Teacher Customizable Greeting Cards
 Thank You To My Art Teacher Greeting Card
When a teacher excels at motivating and exciting your child about learning, it's a deed worthy of some words of gratitude. You may want to send a separate letter to the teacher's supervisor or principal of the school.
Birthday Thanks
Perhaps a friend or family member remembered your birthday with a gift, a surprise party or a special dinner in your honor. If so, don't forget to thank them with a heartfelt note of thanks – even if you've already thanked them in person.
Be sure and mention the specific gift or event and tell them how special it made you feel to be remembered by them.
Here is a sample of a birthday thank you card for a gift.
Dear Josie:

You know me so well. Otherwise, how could you have known that I've wanted that cookbook in my collection for such a long time! I've been curled up in a corner all morning browsing through the pages and planning my next 100 meals.

It's wonderful to have friends like you who know what really makes me happy – food! Again, thank you so much. I can't wait to try one of these recipes on you.

Love and hugs,

(Your name)
If the birthday gift was sent by someone you don't know as well as a close friend or family member, you can make the note a little less familiar and a bit more formal. Just be sure that the words are especially for the giver, no matter how large or small the gift might be.
Thanks for Helping You (or a loved one) Get Well
There are numerous situations that could occur when you're recovering from an illness that makes it appropriate to send a thank you note. Included in these situations are health care providers who went above and beyond what was expected.
Of course, gifts like flowers, food or visits are also included in the proper etiquette for get-well thank you notes. Here's a note that you might write to a health care provider for helping you or a family member during a time of illness.
Dear (Dr. Name),

Words can't express my gratitude for your kindness and expert treatment during my stay in the hospital last month. An illness such as the one I had was confusing and scary, but you kept in close touch and explained everything in a way myself and my family could easily understand.

Please accept my sincere thanks for your help.

Best wishes,

(Your name)
It's always appropriate to send a thank you note to those friends and family who visited you at home or at the hospital during an illness, co-workers who have sent gifts or called and visited you or anyone who supported you emotionally.
Thanks for Donations
Thank You, For The Donation Greeting Card
At some point in your life, you'll probably need to send an appreciation note to a person(s) who has donated money or goods to a favorite charity or one in which you're an active participant.
When writing thank you notes to donors, it's important to acknowledge their gift(s) as soon as possible (within 48 hours is the norm).
Here's an example of how a card expressing appreciation for a donation might look:
Dear (Name of donor),

I want to personally thank you for your generous donation in support of (Charity). Your generosity will make a very noticeable difference in those who have suffered so much in this recent disaster.

You can rest assured that those who need help most will receive instant benefits from your donation and that help will be given expeditiously.

Thank you again for your kindness,

(Your name and the charity you represent)
You should always make sure that the thank you note is targeted specifically to the donor and that you don't make the note all about your charity. Let the donor know that her decision was a good one and that the money or material things will make a difference in other's lives.
We Thank You – and Our Baby Thanks You
Planning for a baby is a happy time – but it's also about as stressful as planning for a wedding – and in some ways, even more so. Physically, you're tired and worn out. But, attending showers in your honor and writing thank you notes both before and after the baby is born is part of the excitement that you don't want to miss.
Hopefully, a good friend or family member has written down the gifts and the names of those who brought them – and now all you have to do is write the notes. This guide will help you with that – and your imagination can do the rest.
Thank You Pink Vintage Princess Baby Shower 3.5×5 Paper Invitation Card
Peas in a Pod Boy Girl Twin Baby Shower Thank You Stationery Note Card
Personalized Vintage Prince Baby Shower Thank You 3.5×5 Paper Invitation Card
So, let's get started writing thank you notes for all those precious little gifts.
Dear (Name),

You are such a special friend to travel as far as you did for my baby shower. Little Marc will look so cute in his "roaring lion" outfit – and the matching visor is perfect. He'll look right at home in the golf cart sitting beside his dad.

You being at my shower made it perfect and I very much appreciate your friendship. I can't wait to send you a photo of Marc in your gift. It's adorable!

Love,

(Your Name)
By sending thank you notes for baby gifts or any other good deed that took place because you're having a baby, you set up a lifetime of recognition for your child. Your friends, family and anyone else in your life who contributed to the celebration of his or her birth will feel special that you acknowledged them.
Invitation to a Party or Other Event
When you're invited and attend a dinner party, pool party, birthday party or any other event at someone's home or other place of entertainment, you'll want to send a thank you note to your hosts. Here's an example of what an appreciative thank you note might look like:
untitled, thank you, arigatou stationery note card
Dear (Name of hosts),

What a great time we had at your dinner party last Saturday night. You're an incredible host and know exactly how to plan a party so that everyone has the time of their lives. The dinner was so innovative – and fun at the same time. Thanks for including some vegetarian dishes to make me feel special.

I just wanted to let you know how much we appreciated the invitation and what a wonderful time we had at your fabulous party.

Your friend and neighbor,

(Your name)
It doesn't take a lot of time and effort to make people feel special for their efforts. A personally written note of thanks for a fun time will make anyone feel special.
A Special Guide to Kid's Thank You Notes
It's never too early to teach kids the proper etiquette for writing thank you notes. Teaching them at an early age that sending thank you notes both honors and acknowledges people in their lives is a good way to help them think about what time and thought went into a gift or a special happening just for them.
As soon as children begin to understand about manners and other niceties, it's time to initiate them into the wonderful world of writing thank you notes. As they grow, start to school and begin to have a social life, the teaching of proper etiquette begins.
Birthday parties? Yes, he or she must write a thank you note to each child who attended. It's the price he or she must pay for being popular and having lots of friends. You can make it enjoyable for your child by giving them some cool note cards that they'll enjoy writing in.
Kids don't have to be prolific or have perfect penmanship. At this age, it's the thought that counts – and counts big. The parents of kids who attended the party will be impressed with the good manners of your child and will be sure to include them in their own party plans in the future.
Have pen and paper ready when you sit down with your child to write thank you notes – and have some correcting fluid on hand in case of mistakes. Be prepared to help her with wording and encouragement, but be sure to let her do the main part of the job for each and every card.
Princess Birthday Photo Thank You Card
Kids Miniature Goat Thank-you Card
Kids Train Choo Choo Thank You Postcards
Below are a couple of samples of how cute and sweet children's thank you notes can be. The first example is a note to a school chum who attended and brought a gift to a birthday party:
Dear (Name),

Thanks a lot for the Barbie and Barbie bicycle you gave me for my birthday. As you know, I love Barbies and didn't have the one you gave to me. Thanks for coming to my party, too. I had a great time and hope you did too.

Your friend,

(Child's Name)
Grandmom and Grandad always send neat gifts – even though it might be clothing and not something to play with. Your children might see lots of Grandmom and Grandad, but always have them write a special thank you note after they receive a gift. It might look something like this:
Dear Grandmom and Grandad,

The shirts and pants you sent for my birthday are awesome! I can't wait to wear them to school next week. I love the colors too. They are my school colors. I've already tried them on and they fit perfectly. Maybe I can get mom to make a picture of me wearing them and I'll send you one.

Thank you so much!

Your grandson,

(Child's name)
Now, the best part – kids love to put the cards in the envelope, seal, stamp and apply stickers. Let them enjoy that part and then let them drop them into the mailbox. Voila! They're on their way to learning proper etiquette for thank you notes.
When No Thank You Notes are Forthcoming
If you've downloaded and are reading this guide, you're probably tuned in to the importance of writing thank you notes. Unfortunately, not everyone in your family may share your sentiments. If your spouse or children seem to think it's not their job to perform this task – even though the notes may be in direct response for something sent or done for them – it's better if you don't jump in and do it for them.
One of the things you can do to make writing thank you notes more attractive and fun for kids and spouses is to be sure they have their own, personalized cards. After all, teenage boys probably won't be too eager to write a note within a floral-decorated card. Choose some appropriately decorated cards for each person in your family and be sure they are kept together with tools such as stamps and pens.
If you happen to see what they've written inside the notes, don't criticize. At least they're making an attempt – and as time goes by, they'll surely improve.
One Last Hint
This guide will give you a head start on writing thank you notes. But, if you're really at a loss for words, choose from what others have successfully written. For example:
Gratitude is the memory of the Heart. (Jean Baptiste Massieu)
If the only prayer you ever say in your entire life is 'thank you', it will be enough. (Eckhart)
Unselfish and noble actions are the most radiant pages in the biography of souls. (David Thomas)
If you write a thank you note from the bottom of your heart and the gratitude of your soul – it will be more than enough.